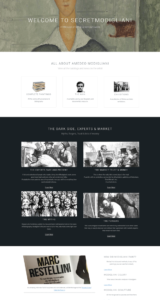 Visit the informative and interesting website of Francisco García, SecretModigliani.com.
The author believes information should be public to work against those "unscrupulous individuals" whose only intention is to "maintain their privileges and businesses at the expense of the same work that they say they love and of which in fact they are always historically proven the greatest culprits of their destruction and loss of prestige."
Definitely worth a look! And be sure to read the Who Does This page… for some insight into the origins of his interest.